5 Top tips when hiring a magician
A guide
Amateur Vs Professional
Magic for the most part, as with most entertainment such as music, starts off as a hobby. There are plenty of hobbyist magicians in the world, many of them excellent, and many at some point set up a website and have a few photos taken.
Performing for your own friends and family is a different experience to having to introduce yourself to strangers, entertain them and work around a room in a professional manner. It is very difficult and can take many years to perfect it.
This is not to say that you should avoid an amateur magician at all costs but just to be aware of the demands an event puts on the entertainer and hiring one with experience can ensure everyone has a great time and no hiccups occur.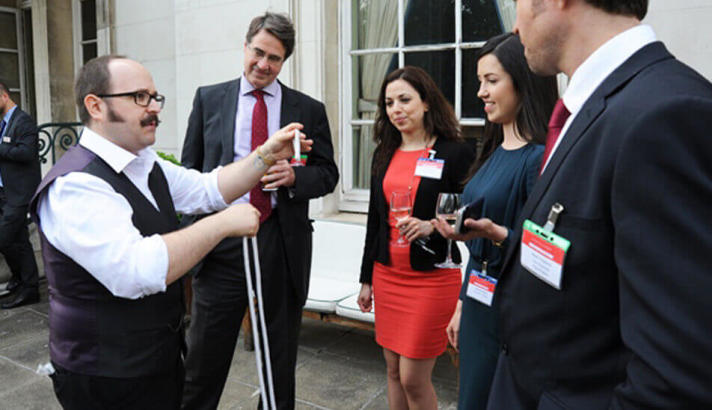 Originality and Style
The kind of magician you want will depend on your event's theme and your own personal taste. There are magicians with bright colored clothing and wacky sense of humour, serious and mysterious mind readers, suave and sophisticated etc.
It is good to have an idea of what sort of magic entertainer you want. If you don't then ask the magician you are thinking of hiring what makes them the one for your event.
Hiring a magician is becoming far more popular these days and many people have seen one or two magicians at previous events. There are several "stock" effects that are popular amongst magicians such as turning a £10 note into a £50, a signed playing card being found in the magician's wallet, a borrowed wedding ring being found on a keyring etc.
All of which are amazing magic tricks which are guaranteed to amaze your guests but if your guests have seen magic live and up close before they could be experiencing déjà vu.
Cost
Costs can vary widely depending on the experience of the performer and what you want at your event. A known name doing a full stage show is going to be in the thousands while a local hobbyist magician just starting out might be £100.
A good indicator of cost would be to think in between £300 and £1000 for a good local professional magician. When you inquire into price you are most likely going to be asked about your event and then packages will be suggested which could mean anything from an hour of mingling with your guests to an hour long sit down show.
This is the reason you won't find prices on most magician's websites as each event can have wildly different requirements.
Ask Questions
You need to know that your event and your guests/clients are in good hands so ask questions.  Good questions would be:
Ask what professional experience they have
What different options do they have and what they recommend for your event
Do they have testimonials they can share from previous clients?
What kind of magic do they perform?
Watch them Perform
Many professional magicians have public events or shows. Some have residencies at local restaurants or bars.
This is a perfect opportunity for you to experience for yourself the entertainment you are thinking of having for your event. When watching a professional magician perform in person you can see how they interact with you and other people, giving you the information you need to decide if they are the perfect match.
If they don't have any public shows, then a promotional video is always good to look for. When watching don't look for flashy magic tricks done for the camera but look for magic being performed at a real event with reactions from real people.
Having a magician at an event can really have a massive impact due to its personal touch. People attending get to experience something unbelievable and fun, often right in front of their eyes.  An entertaining performance put on just for them, making them feel like a VIP.
For many it is one of the memorable highlights of the event and a great magician will have your guests thanking you for the great entertainment.
"Once again Neil did not disappoint with his incredible magic at our Summer party this year. Neil has such a talent to fit in with any group and has become an absolute must have at all of our work events. Highly recommended!
Nina Lewis
Contact Neil
If you have any questions or requests contact Neil in the form below:
[wpforms id="1440″ title="false" description="false"]
If you would like to read some of Neil's reviews.