4 Ways to make your wedding drinks reception absolutely perfect
The photo drinks reception is the most overlooked
part of a wedding.
Yet it often sets the tone for the whole day. Your guests have often travelled long distances, gotten to the venue, sat and enjoyed the ceremony and now are left to their own devices as the newly weds disappear for an hour to get their photo taken.
With a few easy touches you can make sure that your guests know they are in for a fantastic time by making sure your photo reception kicks off your big day perfectly.
Refreshment
Yes, I know, you are saying to yourself of course we've got reception drinks at our reception. Glasses of prosecco or a virgin cocktail at the ready.
How about having a few buckets with iced beer that people can help themselves to if they are not wine drinkers?
If you are having a summer wedding outside then why not Pimms, sangria or mojitos? In winter why not a cup of eggnog or some mulled cider?
These drinks will set your wedding apart from the everyday and your guests will appreciate more choice.
Food is almost always overlooked at this point of the day. Most people will have skipped lunch and by mid afternoon are absolutely starving and eager to get to the wedding breakfast. Making sure there are canapes circulating or various nibbles at hand means that everyone will be enjoying the moment rather than thinking that the wedding breakfast can't come quick enough.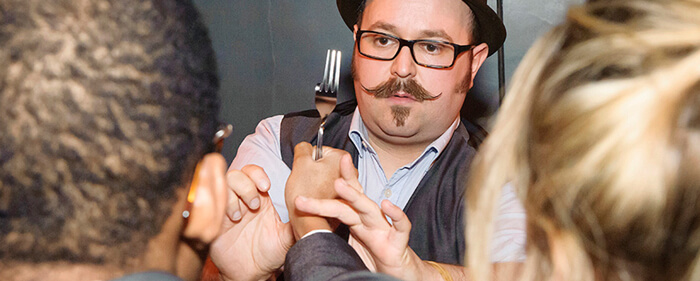 Music
A drinks reception is improved immeasurably with the addition of music as it creates amazing background ambiance that immediately puts people in a great mood.
You can choose from so many options including, harpists, classical quartets, jazz, swing singers or you can make your own playlist and have your favourite tunes playing.
Whatever you choose, music is a fantastic way of setting the perfect mood and theme for your wedding day.
Entertainment
Your drinks reception can be up to and sometimes over 2 hours long which is quite a long time to be stood chatting and drinking which means some form of entertainment is essential. There are so many options at almost every budget level.
The dizzying array of choices could make up a blog post of its own but here are some of the most popular ones I've seen at weddings:
Lawn Games – Giant Chess, Jenga, croquet, ring toss etc. These can either be bought or hired for the day. These activities are particularly popular for weddings with young families and are a low cost way of keeping your guests busy
Magician – Obviously my entertainment of choice. This is because magic is fun, surprising and best of all, it's interactive. It is the best way to create an atmosphere of laughter and applause and brings strangers together no matter what age. A professional magician, like me, will ensure your guests will be talking about how great your wedding was for months.
Artist – There are a few options here such as a caricaturist who will draw fun sketches of your guests or a silhouette cutter who will cut out the profiles of guests with black card and scissors. This is a novel form of entertainment in which your guests have a memento to take home.
Be a part of your reception
At most weddings I've performed at the bride and groom are whisked away after the ceremony to have their photographs taken.
They are then not seen until they return for the wedding breakfast where they are then sat down for dinner. This can mean it is 4 -5 hours after the ceremony before most guests even get to say hello.
While getting those perfect shots is an absolute necessity you also should be enjoying your big day with your friends and family.
Liaise with your photographer to make sure you get time with your guests at the drinks reception to enjoy the entertainment you have organised and to meet, greet and catch up with everyone.


Contact Neil


07914 621269

"When my son and his fiance told me they were booking a magician for their wedding I had my reservations. I need not have worried, Neil was amazing. He blended in perfectly at the reception, going from table to table, astounding adults and children with his magic tricks which were original, quirky and so very professional and polished.
He broke the ice and brought people together.
Also, he is such a genuinely lovely man. Would recommend him in an instant and would use him again for another event in the future."
Karen Davidson
Mother of groom
A short video about your wedding
Or… use the below form for a call back, no personal data will be stored.
[wpforms id="1912″ title="false" description="false"]